Our tickets are selling fast, we will stop selling once we reach the capacity. Make sure to buy your tickets now or ASAP, so you do not miss this fabulous, elegant fun event. You can have a picture taken with the half a million dollar car AR-1Supercar and the gentlemen who build and design it. and also with our celebrity guests and our European Super Models, and Professional Sports Agents will be in attendance. You never know they might bring there professional athletes. lot's of surprises besides the fabulous door prizes.
P
eas
e share this invitation to your friends and associates, It will be an elegant fun, fun, fun event. and make sure to RSVP right away so you won't miss this fabulous event. Please read the instruction in the invitation in how to join this event, and make sure to SAVE IT IN YOUR CALENDAR and do not forget to include your friends because it is a fun event. We will see you at the Great Event and please let me know if you receive this. Thanks Gloria T. Cressler.

Save the Date
2013
Old
2012
2011
1
2
3
4
5
The Season
E-mail this page to your friends
Black Tie International:
Celebrity Annual Platinum Red Carpet Networking Event
Past Platinum Awards Benefits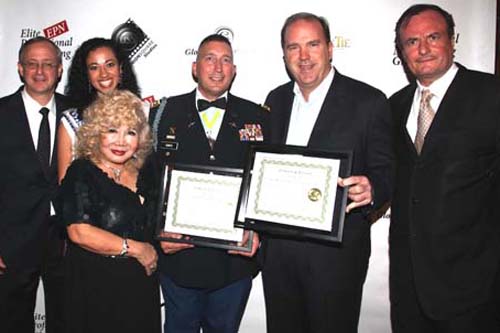 Friends of Black Tie / Elite Professionals: Platinum Awards 2012
Elite Professional Networking: Platinum Veterans Benefit 2011
ELITE PROFESSIONAL NETWORKING GROUP
&
Friends of
BLACK TIE INTERNATIONAL MAGAZINE
POWER TEAM INTERNATIONAL
GIORGIO G COGNAC
(by Famous Designer Giorgio GUCCI)
EMPERORS VODKA
AR-1

SUPERCAR
INVITES YOU TO A "FABULOUS"
Celebrity Annual Platinum Red Carpet Networking Event
To be held on
Tuesday October
22
,
2013
from 6:00 to 9:00 p.m.

at





The beautiful Penthouse of world famous Copacaba
268 West 47th Street (8th Avenue) NYC 10013
Fabulous Fashion Shows, Award night, Speakers,
Entertainment, Fabulous Networking and Door Prizes.
Network with elite professionals, diplomats,
artists, singers, members of the movie and television industry,
members of the press, the friends of Black Tie International Magazine.
And surprise VIP guests!
Produced by: Gloria Consolacion Tamayo Cressler
President/CEO/Founder: Elite Professional Networking Group
P.R., Business & Networking Coach, Branding & Event Producer Company
Editor: Black Tie International Magazine
Member: United Nations Association & Foundation & UNA Women Organization
Ambassador: Power Team International
This year Awardee
is Rita Cosby
RITA COSBY is a renowned Emmy winning TV host, veteran correspondent and best selling author who anchored highly rated primetime shows on Fox News Channel and MSNBC. She is currently a special correspondent for the top-rated CBS newsmagazine Inside Edition and hosts WOR's acclaimed radio program, The Rita Cosby Show. She's been interviewed or profiled by hundreds of media outlets across America and overseas. Rita was selected by Cosmopolitan Magazine as a "Fun and Fearless Female," and because of her "extraordinary journalism," October 11th, 2010 was officially named "Rita Cosby Day" in the State of New York.
Our Keynote Speakers are:


Bill Walsh is the CEO and Founder of Power Team International. He host and speaks at events all over the world. His passions is to empower entrepreneurs and business owners to create a massive success. He is known as Americas business expert.
Karen Hoyos,
Photo By: Adam Opris

Karen Hoyos
is a Global Transformational Leader, Celebrity coach- Speaker & Author; Applying the principles she teaches, Karen has reached millions of people through her seminars, top television show appearances, published articles, and best-selling products. Karen Hoyos is frequently sought to awaken, refresh and transform the lives of people around the world.
Our Fashion Designer
is ISABEL LOPEZ
Be sexy, be beautiful, be original by International fashion Designer Isabel Lopez.
Isabel makes original international fashion designs. She is influenced by designers
Versace & Cavalle. Her clothes has been featured in high end fashion awards, fashion
weeks, and big charity organizations events. Come & see her beautiful clothes &
beautiful models.
And our models are headed by:
German born Actress/Model
Denise Dietrichs
Top 20 in Victoria Secret Angel Tour
Winner of ELLE MAGAZINE MODEL, for more than 8 years from runway to catalogs.
She was also in the movie with Leonardo De Carpio Titled: " The Wolf at Wall Street"
Angelina Shipilina

was born in russia, She won the title of Miss Dispiora International and work with clients like Piaget, Escada, Max Mara, Donna Karan and many major fashion houses, she was in a play

in

broadway and also in the movies with Uma Thurman, Luke Wilson, and on TV Shows like Law & Order, White Colar, Blue Blood and Life in March
Reminiscent of a long-stemmed American Beauty Rose,
Victoria Miningham
, is a soprano who sings in opera productions in New York City and Roma, and has given concerts as far away as China. Victoria has recently performed Violetta in La Traviatta and is currently preparing Mimi for La Boheme. She will be accompanied by pianist Michael Pilafian. He currently plays for the New York Grand Opera, The Center for Contemporary Opera, Opera on the Hudson, Tacomic Opera and the Julliard School of Music.
NYC based pop singer-songwriter
Dan Godlin
released his first full length album, Loving on Empty in 2012 and an EP, In Between in 2013. His music has been featured on E! Channel's "Keeping Up with the Kardashians", MTV's "The Challenge: Rivals II" and American Airlines' "Hitlist". Godlin performed at the MUSEXPO showcase in Hollywood and has shared the stage with such acts as Howie Day, Ryan Cabrera and Tyler Hilton.


Special Appearance by Billy Hock a song writer. He compose all the music that he plays on the piano. Besides that Billy Hock is an Airline Pilot Captain with United Express/Delta Connection. Make sure not to miss him
And, see the world's newest
exotic sports car
Model Angelina and model Denise Dietrichs
This is a half-million dollar luxury race car with a limited production of only fifty vehicles worldwide. With 750 horsepower and a twin turbo engine this rolling work of art is faster and more furious that any car you have ever seen… or heard! And meet

Nick

Alessi


– the artist, designer & builder of the

AR-

1

and have a picture taken with him,
the AR-1Supercar, fashion models and celebrity guests.
THE FASHION SHOW STARTS AT 7:00 P.M.
Our event starts at 6:00pm.
A group picture for Black Tie Magazine will be taken before the fashion show – so arrive early.
Each month we honor and recognized returning Veterans
to thank them for their sacrifices to our country.
Portions of the proceeds of our networking event benefits different
veteran charity organizations.
BRING YOUR BUSINESS CARDS TO WIN GREAT DOOR PRIZES
AND MAKE NEW BUSINESS CONTACTS
OUR EVENTS ARE ALWAYS SOLD OUT. SPACE IS VERY, VERY LIMITED.
WE STOP ACCEPTING GUESTS RSVP ONCE WE REACH THE CAPACITY
SO REGISTER TODAY
(By mailing your check with your friends right now)
BUT IF YOU HAVE A PAYPAL ACCOUNT (if not, it is easy to sign up) YOU CAN PAY TO MY
A
DDRESS IN ORDER TO TRANSFER THE MONEY & DO NOT FORGET TO EMAIL US THE
RECIEPT. IF NOT THEN PAYING WITH PAYPAL THEN YOU CAN MAIL THE CHECK.
COMPLIMENTARY
HOT
AND
COLD
BUFFET
AND
DESSERTS
Cash bar with special prices for wines,
liquors, and b
eers.
THE EVENT COST:


$ 45.00

PER PERSON FROM NOW TO SEPTEMBER

20

,
FOR A GROUP OF 5 OR MORE AND MEMBERS OF ELITE PROFESSIONALS
THE COST IS

$35.00

PER PERSON.
THE NAMES AND CHECKS MUST BE SEND TOGETHER FOR GROUP PRIZES, AND POSTMARK BETWEEN NOW AND SEPTEMBER

20

.
AFTER SEPTEMBER

20

, THE COST IS

$ 55.00

PER PERSON. Till OCTOBER 17,
AT THE DOOR - CASH ONLY

$ 75.00

per person
Make checks payable to Elite Professional Networking and send it to
Elite Professional Networking Group
132 EAST 43RD STREET #146GC
For additional information e-mail us
Please include your name, your company's name, and your preferred e-mail address
for confirmation, and also for future Invitations.

Please provide a
cell phone number so we can text you in the event your e-mail bounces
Please provide the same information for your guests.
BUT IF YOU HAVE A PAYPAL ACCOUNT (if not, it is easy to sign up) YOU CAN PAY TO MY
A
DDRESS IN ORDER TO TRANSFER THE MONEY & DO NOT FORGET TO EMAIL US THE
RECIEPT. IF NOT THEN PAYING WITH PAYPAL THEN YOU CAN MAIL THE CHECK TO THE
ADDRESS BELOW
We donate portions of the proceeds to different Veterans Charity Organization (list available)
Black Tie International Magazine,
Giorgio G Cognac (by famous Designer Giorgio GUCCI)& Emperors Brand,
Power Team International (Bill
Walsh
),
Signature Bank,
AR-1

Supercar

,
Copacabana,
Grande Naturals
Effec
tive
Immediately PR
Silver Suites Residences
Natural Intelligence Systems Inc.
3P MEDIA GROUP
Richard Alan Management

Talking
Alternative
Broadcasting
DRESS CODE
Black Tie or fashionable business attire for men,
cocktail dress, evening gown, or fashionable business attire for ladies.
Please - no jeans. You need to be properly dressed to be admitted
Our Pre-Thanksgiving Party will be on Tuesday, Nov. 19,
and our Christmas Party will be on Monday, Dec. 2.
Venue: The Trump Tower International World Bar by the United Nations
………………………………………
Registration form for the October Platinum Red Carpet Event:
Elite Professional Networking Group
132 East 3rd Street Suite 146 GC
New York, New York 10017
Name: ________________________________________________________Date:______________________
Company Name:_______________________________________________Title:________________________
Mailing Address: ___________________________________________________________________________
E-mail Address:_________________________________________Cell No. _____________________________
Guests Name:__________________________________________Title: ________________________________
Company Name: ______________________________________E-mail ________________________________
..................................................
ELITE PROFESSIONAL NETWORKING GROUP
For an introductory price of $200.00 a year, you will

receive

discounts to our events and invitations to other major events.
And you will have a chance to

receive

FREE CONCERT TICKETS.
Membership Form to join Elite Professional Networking Group is below.
Please use this form to send your payment.
You are welcome to invite your friends and associates to join.
Print and mail to:
Elite Professional Networking Group
132 East 3rd Street Suite 146 GC
New York, New York 10017
Name: ________________________________________________________ Date:______________________
Company Name:_______________________________________________Title:________________________
Mailing Address: ___________________________________________________________________________
E-mail Address:_________________________________________ Cell No. _____________________________